Joint/Spine Mobilisation
Our experienced physiotherapists have had extensive training - including Post-Graduate Certification, in techniques to restore normal range of motion to your joints and help with your overall mobility.
Techniques used to restore mobility of your spine or limb joints (for example your knee, wrist or shoulder) are commonly referred to as Manual Therapy and include Mobilisations and Manipulation. The physiotherapist will use their hands to help stretch and 'move-mobilise' the problem joints. A Manipulation is considered a joint mobilisation at a higher speed of movement – when the person will sometimes feel and/or hear a 'click'. It is also known as 'an adjustment'.
Re-establishing normal joint movement helps decrease pain, improve function, prevent degeneration and maintain overall joint health. This all equates to easier freedom of movement with less pain for you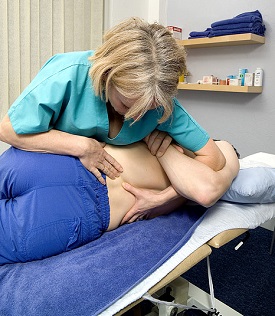 East Care Accident & Medical Clinic
Our location within East Care provides you with quick and convenient access to medical, radiology, and pharmacy services. We have a close working relationship with GP members and visiting Specialists including Orthopaedic and Rheumatology specialists.
East Care provide ample free parking on site to ensure your visit is as stress free as possible.
Opening Hours
From 7am

Mon, Tues & Thurs

Mornings

Closed
Get In Touch
09 930 9400
09 283 0598
260 Botany Road, Howick,
Auckland New Zealand